Recently, Experience Signs had the opportunity to work with Hiley Mazda in Huntsville, Alabama. Hiley needed the vinyl replaced on their Mazda Pylon Sign. The sign is the companies primary recognition tool and brand communicator to the public as they drive by the establishment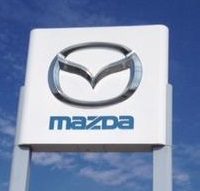 The image to the left shows the updated vinyl and that the job was complicated by the need to work at elevation. In addition to elevation, there were challenges in accessing the letters and removing the old vinyl. As any good custom sign company would do, all of the options for completing the project were considered prior to initiating the activity.
The first consideration was to determine the best tool to get to the letters. Height, ground conditions and access were all taken into account. Next, once at the letters, what was the best repair approach. Removal of the letters to repair at the sign shop was the easiest way to remove the vinyl. However, that required intrusion into the sign. Putting the new vinyl over the old was the easiest and fastest approach but let questions about quality. The third option considered was to remove the old vinyl and install the new vinyl in place. That is what we chose.
After working with Hiley to move all of the cars that were obstructing access for the lift, a local rental company, Robin Rents, delivered a tow behind lift that had 50′ of height and 27′ of extension capability for accessing the letters. This was the one area that we could have made a better decision on what to use. while we were able to complete the job, we were at the limits of the lift capability. When considering a lift make sure to be very knowledgeable about the lift configuration and what the height and extension dimensions really mean. The extension dimension is measured form the center of the pivot mechanism not the front of the lift. Also, maximum height is very dependent on extension needs.
If you are a car dealership or other business with challenging sign repair needs, call or email us now. We provide free consultation and conceptual design for all clients.
888-611-0094 or mike@experiencesigns.com
Written by: Experience Signs, Madison Alabama